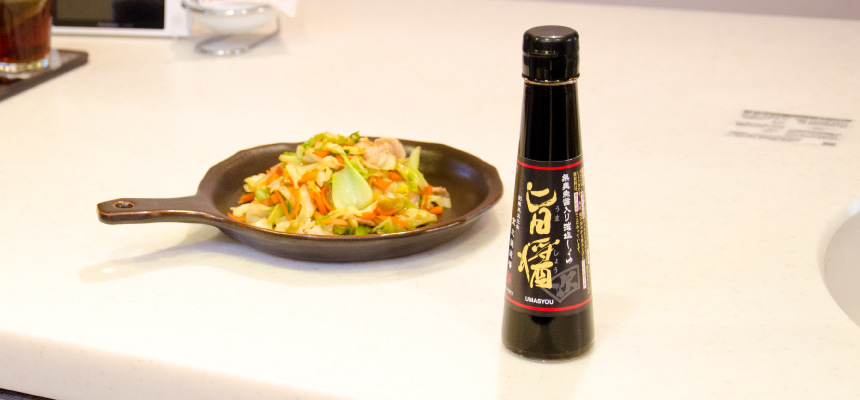 "Umasho" contains a lot of natural umami essence, 25% more umami and 50% less sodium.
Succeeded to reduce 50% of salt content without diluting it by water, and to increase umami by 25% without adding any artificial flavor, "Umasho" is a revolutional low-sodium soy sauce.
This product is a mixture of "Soy sauce from Bakummatsu", the naturally brewed soy sauce and a no-odor/ no-salt mackerel fish sauce which entails natural umami and essential amino acids.
The amount of salt for 100g of ordinary dark soy sauce is 17.5g while that of  "Umasho" is 8.75g. As a result, the average consumption of salt is 1.4g per day, about the same amount of salt consumed as Ponzu vinegar sauce and dressing. "Umasho" also contains mackerel derived peptides which help reduce blood pressure and prevent acute rise of blood pressure after meal.
This product is best for those who need to reduce salt intake. It has unbelievably flavorful even though it contains only 50% less salt. Strong umami of this sauce enhances taste of fish, meat and egg dishes to its maximum. A small dash of this sauce will magically change usual dishes to higher grade gourmet dishes .
Ingredients
whole grain soy beans, mackerels, sake lees
*including traces of soybeans, wheat, mackerels in part. Histamine content; below 10pp.
Best-before date
(if sealed)
Plastic bottle; 1.5 years, Glass bottle; 2 years