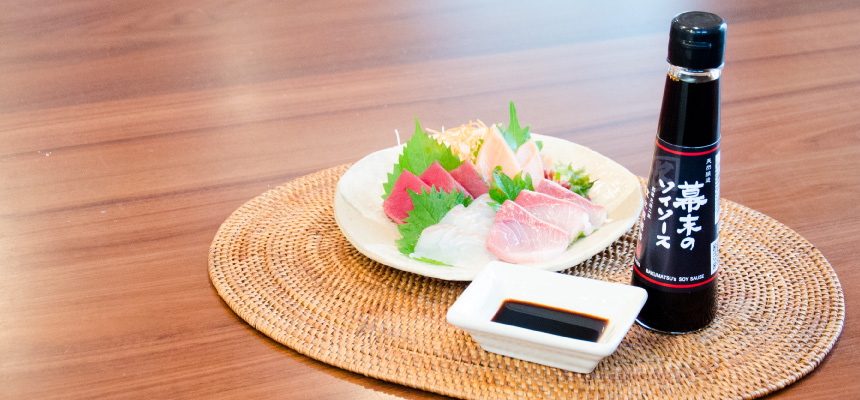 Naturally brewed soy sauce made using the traditional method with local raw materials.
The ingredients include whole soybeans, wheat, salt, and rice produced in Fukui prefecture and local water.  It is naturally brewed for about one year by a special process without any artificial additives.
More than 300 different kinds of amino acids and other components are naturally produced by the action of koji mold during a long fermentation process of Moromi, an unrefined and bacteria-free mixture of raw materials.
A naturally-brewed soy sauce, this traditional and genuine soy sauce is characterized by its deep koku (savory), mellow taste and slight aroma of soybean, which can never be produced by artificial seasonings.
We hope you to enjoy its original taste and flavor derived from such raw materials.
The naturally-brewed soy sauce is not suitable for a mass production because it requires much effort and time. It is said, therefore, that a soy sauce like this is now hardly produced and has a less than 1% share of Japan's total annual soy sauce production.
It has been more than 400 years since Muroji was founded.
Using the latest facilities, Muroji has introduced a hygienic control to the production process established in Edo period. We have been particular about the pure natural brewing method. This is the way "Soy sauce from Bakumatsu" has been born.
Ingredients
soybeans, wheat, salt, rice, wheat gluten, sake lees (all produced in Fukui prefecture)
*including traces of soybeans and wheat in part
Best-before date
(if sealed)
 Plastic bottle; 1.5 years, Glass bottle; 2 years