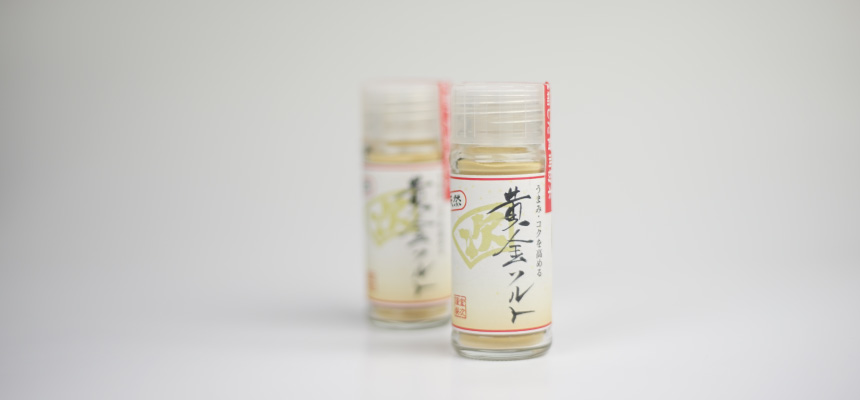 Seasoning powder of condensed essence of natural umami and body.
We made naturally fermented and brewed soy sauce, which is made of  whole grain soy beans and wheat, and no-additive, low-sodium "Umasho", which is developed from no-odor mackerel fish sauce in cooperation with Fukui Prefectural University, into powder. Then, concentrated to 5 times of its original mixture to create "Golden salt".
One dash of this salt contains only 0.01g of salt. It abundantly contains amino acids, such as glutamic acid and aspartic acid which are necessary for umami flavor, beneficial for human growth and essential for sustaining health. That is, this product will kill two birds with one stone; tasty and healthy.
It is suitable for carrying around because it is light and safe without spilling. If you sprinkle some of this Golden salt over your meals, it will draw delicious flavor, umami and body out of the ingredients.
You can greatly reduce salt intake by   using Golden salt instead of salt, ordinary soy sauce, umami seasoning. It is healthy and natural.
Just one dash of this soy sauce powder will cause a magical effect of adding more flavor you can never imagine.
| | |
| --- | --- |
| Ingredients: | mackerels, soy beans, wheat, tapioca, salt |
| How to keep after opening: | If unsealed, the powder will easily collect moisture. Please use quickly after opening. |