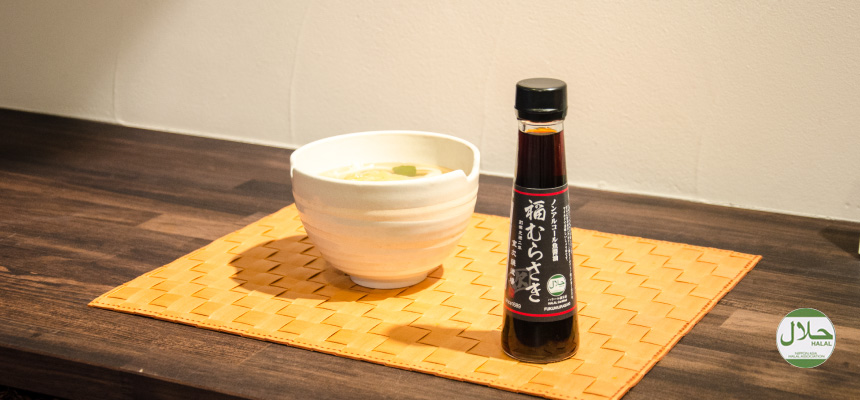 High content of natural amino acids in this soy sauce like seasoning with no food additives and 0% alcohol.
Ordinary soy sauce contains some alcohol, ranging from 2% to 4% of the total amount due to its production process. "Fukumurasaki", on the other hand, adopted so called "the fast fermented fish sauce production techinque" invented in collaboration with Fukui Prefectural University (its patent application is in process) which enabled the production of a perfectly alcohol-free soy sauce.
Developed in pursuit for additive-free umami, "Fukumurasaki" abundantly contains natural umami components of amino acids such as glutamic acid, contributing to its mild and very delicious taste. The amount of total nitrogen content, used as an indicator of umami, is 2.57%. This figure is quite high compared  to a high quality premium soy sauce with its nitrogen content being 1.8%. "Fukumurasaki" is the one of a kind seasoning sauce of strong flavor and umami created by a lot of nucleic acids such as the inosinic acid as well as amino acids such as glutamic acid.
Because of its light color, "Fukumurasaki" is favored by professional chefs and is used in a variety of recipes such as Japanese hotpot stews, noodle soups, boiled and seasoned vegetable dish, dressing for salad and mixed with citrus juice to make Ponzu vinegar sauce.
Acquired Halal Certificate.
Halal is an Islamic word for "forgiven". If a food is halal, that means it is legitimate and safe to eat. Halal certificate indicates that there is no use of materials banned by Islamism such as pork, alcohol and so on,  nor there is no incorrect ways of treating food in the production process.
Ingredients
mackerel, soy beans, salt
*including traces of soybeans and mackerels in part  Histamine content; below 10pp
Best-before date
(if sealed):
Plastic bottle; 1.5 years, Glass bottle; 2 years